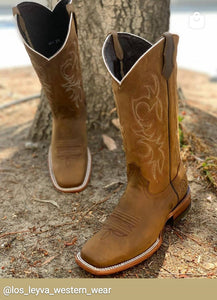 EXCHANGES available INTERCAMBIO disponinle
Afterpay available at checkout 
Use sezzle ✅ or shop pay wither one will work for afterpay. no fees or interest  
paga tus botas en pagos usando shop-pay en nuestra tienda en linea 
You must love this boots. 😍 beautiful style. Our best seller so far. Now you can wear these beauty.
Regular fit. 23mexico 6usa. If you need wide boots. We recomend ordering half size bigger. 
Botas corren en medida regular. si usas un 23 mexico, ordenas un 6 usa aqui 
Hand crafted 
100% real leather boots
100% piel 
Made in mexico 
I was so excited to see my purchase, it was delivered quickly and in perfect condition. I Love Them♥️♥️
Loved the quality of the merchandise
loved them!
I would most definitely buy from here again! i ordered theses boots, true at size! support this small business. They told me that the boots were supposed to get here friday but they came in wednesday! earlier than expected. which i loveeee:) i was having a bad day but seeing my package here early made me feel way better! They were absolutely gorgeous when i pulled them out
My order was processed fast i ordered on a friday and received them either tues/wed, the quality is 10/10, i ordered my normal size and they fit perfect.
Only down fall is theres only one picture posted here and my boots look a whole different color the design is the same but the color is way off, and the name on the box is not 011 karlita so im not sure if they sent me the wrong ones or what. But im going to keep them anyway xP
Comfy! I'm originally an 8 but sometimes fit to 8.5 depending on shoes. This one I needed to do an 8.5. If your feet are normal than no worries. I just have a weird foot.